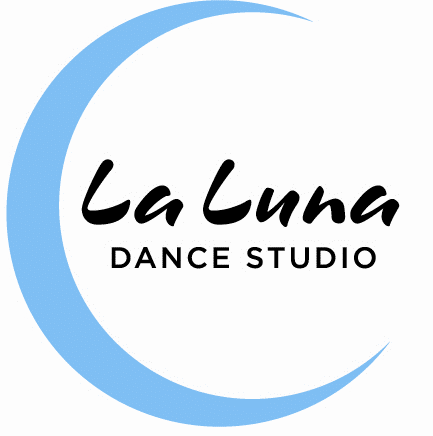 ​La Luna Dance Studio
Teens & Tots Dance Program
Class Levels & Descriptions
Class Levels
These levels are guidelines only and the basic minimum requirements used when determining class level. At La Luna, every dancer is different, and every dancer is special. At the end of each year our experienced faculty will evaluate each and every student's individual strengths, technical ability, physical and intellectual aptitude, and overall progress from the start of the season. Advancement from level to level is not solely based on age or years of experience. Classroom behavior, effort, and attendance are also important factors used when making recommendations. Students may stay in any one level from 1-3 years before graduating to the next level.
​
Early Dance 1
Ages 3-5. Basic ballet and tap steps along with creative movement and props. Students must be fully potty-trained.

​Early Dance 2
Ages 5-7. Combination ballet and tap class.
Students graduating from Early Dance 2 must take Ballet 1A before participating in any other Level 1A class.

​Level 1/Level 1A
Ages 7-10. Beginner dance class. Must be at least 6 years old by September 1st and receive instructor approval.
​
Level /2
Ages 9-12. Beginner/Intermediate dance class with at least 2 years experience.
​
​Level 3
Ages 12+. Intermediate/Advanced dance class with emphasis on technique and performance. ​

​Pointe
Ages 12+. Must have a minimum of 3 years ballet training and must receive instructor approval.
Junior Dance Company(Ballet)
Ages 8-12. Minimum of 2.5 dance class hours per week required. Company students must enroll in at least 1 ballet technique class per week, as well as 1 PBT technique class. Attendance is mandatory and only 5 absences will be allowed for the entire school year. Students with excessive absences will be asked to leave the company. Dance Company students will participate and perform in 1-2 local competitions/conventions per year. Additional performance opportunities may become available.
Senior Company (Ballet, Lyrical/Jazz) Ages 13+. Advanced dance class with emphasis on technique and performance. Students must have a strong ballet foundation. This class will focus on advanced barre, center and across the floor combinations including multiple pirouettes, adage, petite allegro and grand allegro.
Class Descriptions
​
Ballet
Ballet offers a solid foundation and technique, as well as grace, flexibility, and discipline to dancers of all age, level, and style. Proper ballet vocabulary, along with technique, alignment, endurance are explored in this class.
Tap
Tap is dance form that creates a "tapping" sound using metal plates that are attached to dance shoes. Tap provides instruction in coordination, musicality and phrasing.
Jazz
Jazz is a fast-paced and high energy dance which uses the foundations of ballet to create new movement possibilities. Multiple styles of Jazz will be taught to expose students to the ever changing trends in dance. Students enrolled in Jazz must also take 1 ballet class. PBT training class will also satisfy the ballet requirement.
Lyrical/Contemporary
Lyrical is a fusion of ballet and modern dance techniques where the dancer uses interpretive movements to convey the lyrics in music through dance. Other modern and contemporary dance styles will also be introduced in this class.
Students enrolled in Lyrical and Contemporary must also enroll in 1 ballet class. Enrollment in PBT training class will also satisfy the ballet requirement.
Hip Hop
Hip Hip is a popular and funky urban style of dance using beats, accents, and isolations to popular music.
Salsa
Salsa is the unique blending of traditional Latin dance steps with the freedom and turning actions of Swing and Hustle dancing. Salsa uses a fusion of an Afro-Caribbean beat with enhanced jazz textures to create a high-energy and social form of Latin dance.
PBT (Progressing Ballet Technique)
Progressing Ballet Technique is an innovative program developed by Marie Walton-Mahon for students to understand the depth of training muscle memory in achieving their personal best in classical dance. PBT is a non-traditional technique class using the aid of props such as fitness balls and yoga mats. PBT is non-recital class open to all students age 8+. PBT is a requirement for all dance company members. Students may also enroll in PBT class in lieu of the ballet class requirement for Jazz, Lyrical, and Contemporary. Currently, La Luna is the only studio in our area certified in Progressing Ballet Technique.
Progressing Ballet Technique